Virtually Invisible micro models
COMPLETELY IN THE CANAL MODEL
CIC
Completely in the canal model CIC is generally referred as Invisible model.
It's smaller than ITE and ITC. While ITE occupy the whole concha – the outer ear lobe portion, and ITC make half of the concha, CIC Rest completely inside the canal the skin tone color face plate of the hearing aid makes it virtually invisible.
For the size factor there is no chance of volume control option but *trimmer or *program toggle switch can be provided. Nowadays CIC are available in the fitting range of severe hearing loss upto 85dB And power cic fitting range almost touches 100 – 110 db*. Profound Hearing loss but Power cic can be fitted for only those who have moderate size canal volume otherwise it will come out as ITC size.
Because of its placement – inside the canal, it can benefit from the function of the outer ear lobe which collects and convey the sound to the ear drum. Better in localization and in detecting the direction of the sounds. Canal shape shell and sound output in close proximity of the ear drum gives more natural sound resonance. Well fit – in the ear gives good comfort feeling.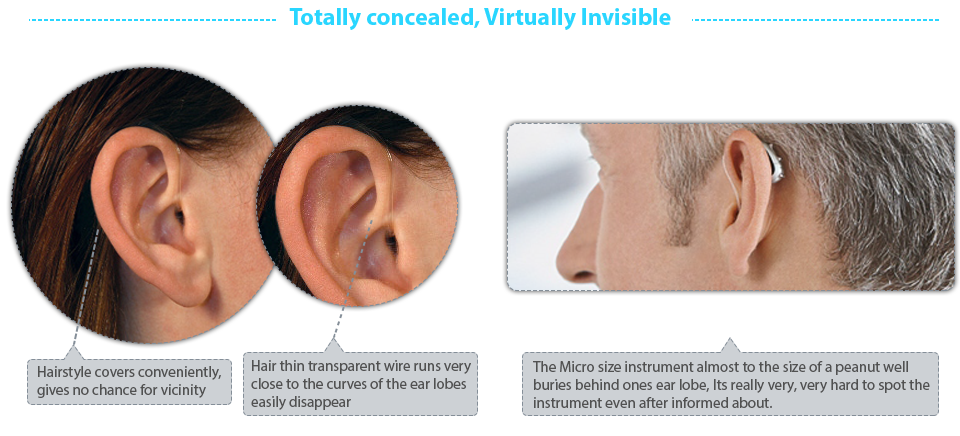 Micro size – Macro Power!
A Micro size, virtually invisible hearing instrument with fitting range touching profound hearing loss – upto 100 dB. A blessing for those who have profound hearing loss and not willing to go for BTE or power ITC / CIC and commonly for any one of those who don't have enough canal volume (size) to go for micro cic model (esp. in the age group of 12 to 18 yrs)
comparatively sturdy, Ergonomic and has better battery life than cic. A better option for old age people who cannot handle micro cic model.
Lifestyle hearing aid with wi-fy and hi-fy features (waterproof, remote control and wireless bluetooth technology)
A fusion technology with dual benefit : a crossover technology which has the advantages of both the BTE and canal models. Dual Mic – 3D* surrounds sound (distinguish speech from the back ground) – wireless streaming ( hands free mobile, Tv & music system – a blueb tooth technology) frequency compression (for total hearing loss at one particular tone ) cross and bi-cross (for total hearing loss in one ear) – open fitting 0-100dB flexible fitting range – for slopping loss (better hearing for some sound and poor hearing for some other sound ) features of the BTE model and the output of sound in close proximity of the ear drum (gives natural sound resonance) by the deep placed canal shape micro mould of the canal model.
Behind the Ear Instruments
BTE – a versatile Hearing solution
Evolving – most evolved and evolving model in the hearing industry.
Lifestyle- evolved to more and more sleek, compact, fancy look BTE's. wi-fy, hi-fy features(Remote control, wireless – bluetooth technology ) water proof and dust proof – enjoy rain, swim and water sports.
Performance – evolved for higher level performance wireless streaming technology – for Handsfree mobile / Tv & Audio frequency transposition – For Total Hearing loss at a particular frequency band. cross and bi – cross (intercommunicating hearing aids)For Total Hearing loss in one ear. dual microphone – 3D surrounds sounds – background and spatial dimension Realworld dimensioran.
Power – Super power (max.) hearing aid with fitting range upto 120dB – for Profound hearing loss.
Most efficient and enduring Hearing solution for widest range of Hearing problem
The only model that fits best and also that which provide widest range of hearing solution (models) to All age group – All types & conditions and to most severity level and ranges of hearing problems
All Age GroupGenerally Canal models cannot be given to a person who is less than 16 yrs. and RIC's below 10 yrs. since their ear canal would not have developed completely and generally aged person who are not physically active and smart, may find it difficult to handle minute instrument like CIC and RIC. Poor cosmetic appeal and basic hearing solution Pocket model is not a comparison.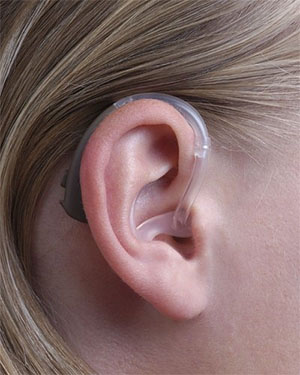 All Types and condition : For Conductive Hearing loss / Mixed Hearing loss / Sensory Neural Hearing loss. CIC's and RIC's are generally not recommended in the condition of ear discharge – a problem of conductive and mixed hearing loss. CIC's and RIC'S cannot be given if a person has a very small or undeveloped ear canal.
Note : if any one want to go for CIC / RIC in the condition of ear discharge, one should ensure to keep the problem under check and to regularly maintain the hearing instrument.
Severity level and range
For Severe to Profound degree hearing loss – With maximum gain and maximum output matched with best feedback cancellation technology and with the special feature – frequency compression Undisputedly BTE model stands as a very Best hearing solution for profound hearing loss.
Ric's and Power cic fitting range could be stretched upto severe Hearing loss (But Power cic fitting requires at least an average size canal volume).
Pocket model is Powerful Though it is no comparison as it is a basic hearing solution with poor cosmetic appeal.
Best open fitting Hearing Solution
What is an open fitting Hearing solution.
Fitting a Hearing Instrument with the ear canal in open condition i.e., not occluding or air tight concealing of ear canal with fitting mould accessory or by the hearing aid itself (canal model) – keeping it vented.
Why an open fitting Hearing solution is required
For a person who has a slopping hearing loss – i.e. better hearing at low frequency sound (Normal to mild hearing loss) and poor hearing ( moderate to severe hearing loss) at high frequency sound. Concealing his ear canal with air tight fitting mould or hearing aid, causes the air pressure inside the ear canal to increase which gives him too much occlusion – blocking sensation and all the sounds he hears will have an echo effect. One can get rid of this problem by providing a vent open to the mould which makes the pressure to leak out thus reducing the blocking effect. The open fit.
Though canal model also be given as a open fitting hearing solution by providing different size of vent in the shell of the instrument, the Open fit special BTE Model gives flexible fitting range ( 0 – 100 )which enables the instrument to give a very less amplification at low frequency, (the person with slopping hearing loss will have better hearing at low frequency sound and he needs a very less amplification of low frequency sound.) Giving 0 or less amplification at low frequency sound when the patient has normal hearing for low frequency sound and allowing the low frequency sound to be heard normally by his ears (by well designed open fitting doom with different vent size) gives a balanced hearing solution and preserve the original sound quality.
Different vent size of the doom is selected according to the level of hearing loss at low frequency
With special open fitting accessory thin tube and open doom and flexible fitting range 0-100. BTE model stands as best open fitting hearing solution. while thin tube enhance the conveyance of medium and high frequency sound open doom allow the low frequency sound to be heard by our ears naturally,
Ear canal shape – shell models
Most comfort, fit it and forget it model. No feel of extra fitting attachments (accessory). Inside the canal it becomes one of our integrated part of our body.
Ear canal shape – shell models are custom made. They are made as exactly as the shape of ones canal. It is made by using the die – the wax Impression taken out from the ear of the patient. Using the Impression the shell of the Hearing aid is brought out. The shell configures all the functioning parts of the instrument inside
There are three different Types in canal models. The name describe the type more exactly. One can clearly understand the type of model by the name.
In-The-Ear (ITE) – full concha,
In-The-Canal (ITC) – half concha
completely in the canal (CIC)
Canal models with BTE power and fitting range
ITE the biggest among the three, occupies the entire outer ear lobe's canal called concha but ITC occupies only half the portion of the concha being bigger in size these canal models can accommodate the bigger size powerful microphone, speaker etc., Because of which these can match the power and fitting range of BTE'S. (Except super power BTE'S)
Canal models are preferred for its invisible nature but here in the case of ITE & ITC the concept of Invisible is totally nullified, If we look at advantages, No wearable fitting accessory required. Compared to CIC's these has better battery life and more switch control options – one can increase and decrease the volume, toggle between the programs.
The Canal models which match the BTE's in power and manual control options and with canal fitting comfort. Those with severe to Profound hearing loss and who don't worry about the cosmetic appeal but want Canal fitting comfort ITE and ITC are the best options
A Very simple to operate and maintain – Basic Analog model
Its match box size body and simple style conventional switches (on / off and volume controls) and battery compartment door gives better grip to handle and operate An old age friendly, A Strong, sturdy and highly durable nearly maintenance free – child friendly Hearing Instrument.
An Inexpensive accessories and consumables – Economic class model
Long serving easily available AA size Pencil Battery, Ear tips, wire / chord connecting to the Earphone low maintenance Hearing Instrument.
The World's most Powerful – Super power class model
With the most valuable gain (strong signal strength ) No dearth of strain in understanding the speech, for the person who has profound hearing loss, A suitable Hearing solution in profound hearing loss category.
A Basic hearing solution with poor cosmetic appeal
Usually Recommend to those who could not handle sleek tiny equipments – technology averse lay men, child and aged person (case to case – in case one could not afford close supervision / assistance.)