Audiometric Test
A Basic and Fundamental test – to access the Hearing Threshold (Hearing level / Hearing Problem) and ear pathology of a person
A simple procedure – in which the person is asked to give hs response for the different kind of tones (sound) presented to his ears in varying loudness (step by step decreasing the volume leel of the particular tone) via a head phone mounted on his head. Plotting his responses from a graph(Audiogram) and that reveals his Hearing level (severity) and type of Hearing problem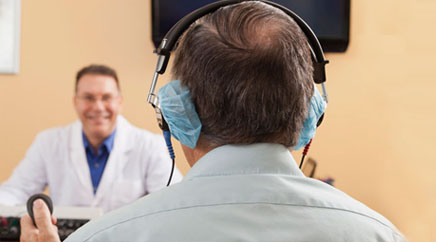 The severity of Hearing Loss – i.e Mild – Moderate – Severe – Profound
The type of Hearing Loss
conductive Hearing Loss

A middle ear pathology and ENT problem, medically treatable.

Sensori Neural Hearing loss

Inner ear Problem, Nerve weakness(degenaration of Sensori Neural cells of inner ear organ Cochlea) irreversible

solution Hearing Aid fitting
Mixed Hearing Loss -both the above components.
solution Basically Hearing Aid medical Treatment/Procedure helps to cure / manage the symptoms and may also facilitate the hearing aid solution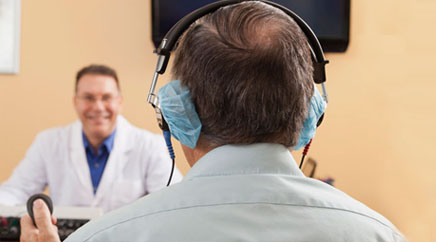 An Auto diagnostic instrument – Test that reveals that external and middle ear condition
A condition of degeneration of Sensory Neural cells in the cochlear – the inner ear org an.Intoducing to various modules of Hearing
Aids. One get the feel and idea os Hearing/solution. Once will Experience and learn the advantage of special features of the Hearing Aids
Here at Micro Hearing Aid center we ensure that all the enquiries be sorted and clarifies comprehensively. Providing all the Necessary information that many convince and satisfy the customer
Here at Micro Hearing Aid center, we ensured that the atmosphere to be conducive so that cstomer may feel more comfortable and be free to delberate upon his hearing problems and its complaint.
Here at Micro Hearing Aid center, on first appointment with the customer, we, after the formal registration and Introduction interview the patient and we carefully record the history – in all the details regarding the origin, the nature and the complaints of the Hearing problem. These facts go a long way to help to check the conduction of the Audiometric test and bring the most accurate report and also helps to workout specially for the best and enduring Hearing solution.
After conducting the Audiometric Test on the patient, we interpret the result to the patient and make him to understand, his Hearing problem. We sit with the customer and discuss together in details, about his hearing problem, its level of severity and type. We explain specifically that how severely it will affect his daily life and its extent of implication upon his personal, social and professional life. In the above context we underline the importance and the benefits and positive effects of hearing solution, so that the patient may understand how indispensable the hearing solution to be. Finally we present the customer with option of available hearing solution which covers his hearing problem and the hearing solution which would most effectively resolves his hearing Problem.
We derive to a particular level / range of hearing solution based on Individuals Hearing Problem (The Audiometric result) his lifestyle situation, his age and then finally his budget.
In the above course after deriving for a particular level / range of hearing solution, the Individual is given trial with different models of hearing aids in that range, one after the other, that gives him a chance to compare and find out the differences in clarity and comfort in each of the model and helps him to prefer a particular model which effectively resolves his hearing problem.
During the Trial, methodically we test the efficiency of the hearing aid by involving him to, one to one conversation, group conversation, speech at distance(essentially), speech in quiet environment and speech in Noisy environment. We take note of all the minute details of the feedback of the customer and set the hearing instrument accordingly and try to make it more perfect to the customer.
We pay special attention to the problem area and enhance the setting to deal with it effectively and we emphasis customer's sincere effort to make level of it.
We read the customer and work a course to be followed by him to extract the better result from the solution and make it more successful.
And finally after the fitting we give complete instruction like how to handle, how to operate and how to maintain the Instrument. And we insist for a periodic check, for the hearing assessment and regular service and fine tuning for the hearing instrument.